Contact Us Welcome to the TM labels site for collectors of matchbox labels,
<![if !vml]>

<![endif]>
Buying matchboxes and other match related items
Selling Since the invention of the friction match, manufacturers have used labels on their
Diary matchboxes to attract, amuse or inform their customers. A variety of sizes and shapes of labelling has been used on a multitude of different containers for
On this page matches over the years. It is the collecting and study of these labels that gives

The TM Collection us so much interest and pleasure.
---
RESTRICTED ACCESS:
Match TM Labels is an established partnership with over fifty years of experience of
Companies' matchbox label collecting between them. We specialise in matchbox labels and other match related items. We are Richard Tolson and Kevin McCarthy, both ardent collectors, living in England.
---
The TM Collection
The TM collection consists of hundreds of thousands of labels, skillets, packet and gross labels from around the world. There is also a large collection of match related ephemera, advertising and hardware items. To support our knowledge and understanding, we have also built up a substantial library of match or label related books, catalogues and magazines.
The core of the collection resulted from the merging of our original collections into one, with each of us taking responsibility for particular areas within the collection. Subsequently the collection has grown to its present size by absorption of further collections, exchanging and purchases. We constantly seek to increase both our collection and knowledge. See exchanging/wanted.
Obviously, in our search for new material for the collection, we also accumulate duplicates. These we offer to other collectors, either by sale (see selling) or by exchange (see exchanging)
---
Research
TM Labels are willing to assist other collectors, researchers and catalogue compilers with any assistance we can give from material in the TM Collection. We also offer assistance and advice to drama or theatre groups, filmmakers and historical re-enactment societies to ensure historical accuracy in respect of matches and matchboxes used. Similarly we are also keen to assist in the identification, dating and valuation of items for private individuals, auctioneers or antique dealers. Please feel free to contact us, as it may be that your item is something we require, in which case we will make an offer.
---
Collecting Terms
Some collecting terms are used throughout this site; here we try to give some examples of what is meant, but each is by no means exhaustive.
| | |
| --- | --- |
| Labels | General term for paper labels affixed to matchboxes, usually as a single label on top of the box, or printed on a label that goes all the way round the matchbox |
| Packet labels/wrappers | Usually affixed to packaging around (typically) ten or twelve individual boxes. The design may be printed directly onto paper, or on a label affixed to the packaging. |
| Skillets | Normally the design is printed directly onto the cardboard outer of the matchbox, more prevalent nowadays than labels. |
| Gross/Carton | Larger labels used on the packaging of (typically) ten or twelve packets of matchboxes, usually affixed to shipping crates |
| Ephemera | Paper documents relating to match companies includes advertising, catalogues, factory stock books, printers proofs, calendars, price lists, headed letter paper. |
| Hardware | Generic term to cover items made to contain, display or dispense matches or matchboxes. Examples are match tins, match safes, ashtrays and matchbox slides. May be made of a variety of materials, e.g. tin, plastic, pottery. |
| Advertising Items | Items made by, or on behalf of, match companies to advertise their products. Some may be ephemera or hardware type, but can include such items as "corporate giveaways", crib boards, playing cards, enamel signs, and shop display cards. |
<![if !supportEmptyParas]> <![endif]>
<![if !vml]>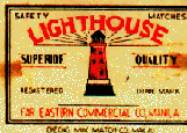 <![endif]>
kobe bryant shoes
kobe bryant shoes
cheap kobe shoes
kobe shoes
moncler outlet
moncler on sale
moncler jackets womens
Cheap Canada Goose
Vino is of the Italian wine meaning, this is the last season Bryant with a new nickname,kobe bryant shoes means despite his age,cheap kobe bryant shoes but think as more and more sweet more and more mellow wine.
Animals with hollow out texture pattern and compose with exquisite diamond, in the wild wild permeate a unique feminine women, authentic chan luu bracelets with exquisite craft of lassa, make pendant more rich simple sense, distribute the breath in low-key but extraordinary.
<![if !supportEmptyParas]> <![endif]>
<